GP 2 STARTS TOMORROW IN PORTO CERVO
Eighteen teams in the waters of Porto Cervo, Sardinia for the first GP organized in collaboration with Yacht Club Costa Smeralda. Sold-out event.
PLAST FREE 69F PROJECT WITH ACQUAVIVA WT
69F team is determined to reduce its carbon footprint…
YFGC: Act 3 and Finals to be held in Cagliari
The Persico 69F Class has secured a date and spectacular location for the third act of the Youth Foiling Gold Cup! Rendezvous in Sardinia's capital city of Cagliari in October, with the season finale, held early November.
THE NEXT GENERATION OF BOATS WILL FLY
Yesterday marked a moment in history, as the first time a flying electric motorboat raced a flying sailing yacht.
PERSICO 69F CUP PUT ON A SHOW IN MALCESINE ON LAKE GARDA
Fourteen crews battled it out over two long weekends of regattas, World Champions and Olympic sailors like Paul Goodson, Umberto Molineris and Lorenzo Bressani reinforced the flying teams on the waters of Lake Garda.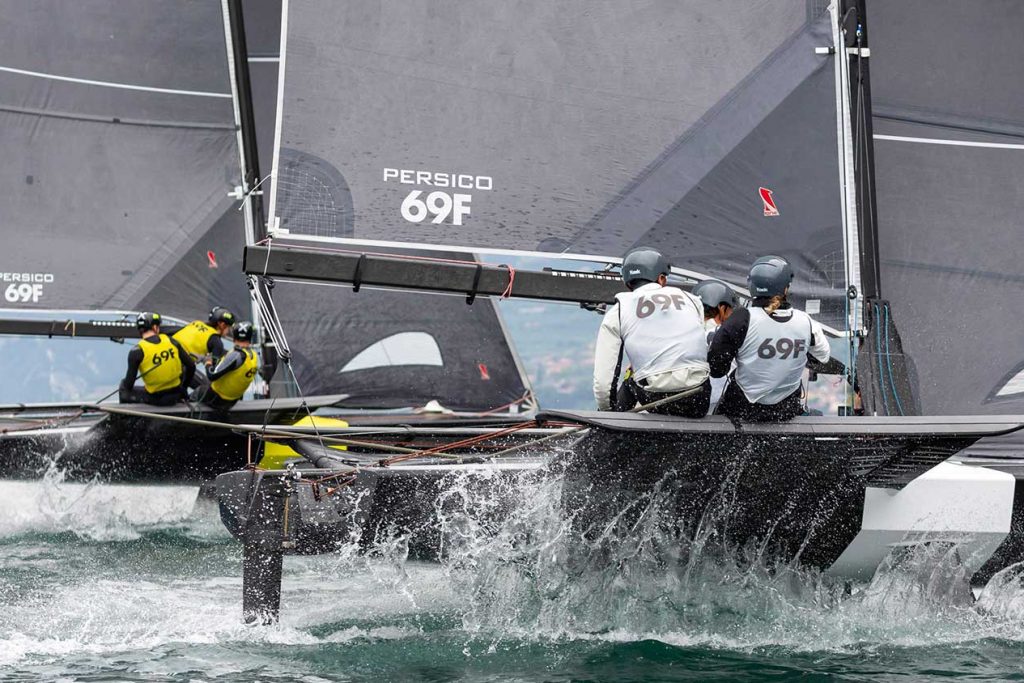 THE PERSICO 69F CUP RETURNS
The first regatta of the second edition will begin on 30 April in Malcesine on Lake Garda
A new beginning for the 69F Youth Foiling Gold Cup
The 69F project builds momentum with Persico 69F Cup starting in Malcesine on the 27th of April and the second act of the Youth Foiling Gold Cup confirmed for August.
No wind, no racing. DutchSail – Janssen de Jong win in Gaeta as all eyes turn to act 2 of the Liberty Bitcoin YFGC in Limone in August. Yesterday, Gaeta served up a feast, but today it was a famine. Following yesterday's exciting fast foiling conditions, Gaeta brought the
Strong winds finally reveal the full potential of the Persico 69F When cooking, the end result is only ever as good as the quality of the ingredients. Today, Gaeta served up a full feast for the Liberty Bitcoin YFGC with all the required ingredients… plenty of wind, bright sunshine
Strong rain, and no wind, kept the fleet grounded. Torrential rain was the only thing moving in Gaeta today. Low, leaden clouds hung menacingly over a sea dimpled by rain but stubbornly unruffled by the wind. In the afternoon, the fleet went out to sea in the vain hope
Young Azzurra lead the way as elimination claims Xela Racing Looking at today's scoreboard, you could be forgiven for thinking that nothing much happened today. For the first two races, the podium was the same… ITA, EUR, USA with the Italians going on to win 3 out of the